Directions: Enter any combination of feet and/or inches into the calculator below. You can use this square footage calculator to calculate siding square footage or any other square feet needed (like: roofing, carpet, etc.) You can also use this tool to convert feet to inches, convert inches to feet and calculate square inches.


rectangle examples
and diagram
Square Footage Calculator
(Height x Length = Square Footage)
(Square Footage = Square Feet = SqFt = Sq.Ft. = sq.ft. = ft2)
Directions:
Use the calculator above to calculate your square footage.
You can enter feet only, inches only or any combination of the two.
*Square Footage is also known as (a.k.a) square feet, square ft, SqFt, Sq.Ft., sq.ft., ft2 & ft2
**This Calculator also calculates square inches, total height in feet, total height in inches, total length in feet and total length in inches.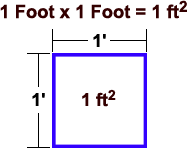 What is a Square Foot?
A "square foot" is a unit of area measurement equal to a square measuring one foot on each side. 1 Square Foot = 0.0929 square meters. Abbrev.: ft2, sq.ft, SqFt.
If you enjoy using SquareFootage.org, please help us out. The site traffic has grown over time and we had to upgrade our server significantly over time. Please help us provide fast and smooth user experience by shopping through us when you shop from
Amazon US
. We receive a small commission if you purchase any products through
this link
. This has no effect on the cost of the product and is a simple way to give back to SquareFootage.org for the effort and the hosting service we provide.